Injury and Case Management Handbook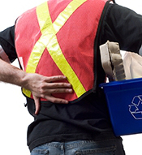 Thrown in the deep end with Return to Work?
Do you have a practical plan of attack?
Need expert insights, everyday language?
Want resources to help get the job done?
The knowledge to do the right thing by everyone?
Need to separate performance issues from RTW?
There's only so much you can learn in a two day course. Being a return to work coordinator is a complex, demanding, often frustrating job, yet in most jurisdictions you're expected to have all the necessary information and skills under your belt after a few days of training.

The RTW Matters Injury and Case Management Handbook provides practical, simple and clear information to help you get the job done with a minimum of fuss. The handbook is availalbe free to all Return to Work Matters members.
Join Return to Work Matters and receive this and other handbook downloads via email upon joining. Please click 'Join Now' to see membership options and bonus handbook inclusions.
This handbook will help you:
Get management and staff onside for best practice injury management.
Take your RTW training to the next level – and jog your memory if it's been a while!
Listen to the ticking of the RTW clock.
Spot problem claims before they trip you up.
Mine the rehab potential of modified duties
If your organisation's response to illness and injury isn't right on the money, you are the one who has to deal with the fallout. There is pressure to make a lot of people happy: supervisors, claims staff, the injured or ill worker, and managers with an eye on the bottom line. The Injury and Case Management Handbook gives you the information you need, when you need it. An invaluable easy to read resource created by experts:
Chapters in the Handbook:
The first five minutes
The first 48 hours
Getting medical care
The first week
Disputing a claim
High risk cases
Not back at work after 3 weeks
Return to work approaches
Different ways to decide on rtw duties
Relationships and communication
RTW plans
Writing up a job description
Common restrictions for common health problems
Return to normal vs long term restricted duties
Injury management, disability management & rehabilitation
Hours of work in RTW management
Different case scenarios
Circumstances investigations
Consequences of disability – employee
Consequences of disability – employer
Understanding barriers to RTW – the patient
Medical confidentiality and privacy
Return to work coordinator competencies
The breadth of RTW activities
Product Info:
Format: PDF
Delivery: Email upon joining Return to Work Matters
Value: $88.00, Member price - Free when purchasing a new or renewal licence
If you would like to purchase the product on it's own, please email us to arrange your copy.
For more information: Please email admin@rtwmatters.org or call 03 9867 4116
About us:
Return to Work Matters is an online resource for Return to Work practitioners. Return to Work Matters delivers tools and practical resources that are derived from evidence based research. Resources include:
Practical evidence based articles on a variety of topics
Research summaries to keep you up to date
Live webinar events, recordings and video interviews with industry experts
A collection of downloadable and editable tools to streamline your work
Regular blog posts
Handbooks, guides and top tips
Events, conferences and training directory Australia-wide to plan your professional development
A weekly newsletter with new and existing resources to keep great RTW front of mind.
Return to Work Matters is directed by individuals who have for decades been in leadership roles in Occupational Medicine, return to work facilitation, policy development and professional network support.
Individual memberships start from $148.50 annually, with discounts available for group memberships.