Training Program: Managing return to work for supervisors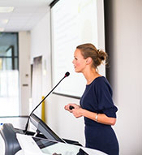 Are supervisors part of the RTW problem?
Need an easy to follow guide to supervisor training?
Step-by-step instructions for supervisors to manage Return To Work?
Evaluation forms so you can tailor training to your staff
A resources handout including a glossary, ergonomics exercises, examples of return to work plans and job analysis forms?
The supervisor's role is pivotal in Return To Work. They are closely connected to the employees, their work and the work environment. Perfectly placed to observe changes in behaviour and the emergence of physical, mental and personal problems and act to prevent problems or facilitate a return after an illness or injury.
This training program sets up supervisors to make the most of their capacity to positively impact return to work, foster good working relationships while encouraging employees to be more productive.
Use the package to create a program that is right for your workplace. You will be able to identify problems and benefits associated with both effective and ineffective return to work programs, demonstrate knowledge of variable courses of recovery, identify factors that impede and assist employees with musculoskeletal problems, identify barriers, show knowledge of management tools available, and much more.
All unlimited corporate members of Return to Work Matters receive full use of the training program during their membership. Please click 'Join Now' to see membership options and bonus handbook inclusions.
Price: Free for unlimited corporate members ($3300 per year) or on application - If you would like to purchase the product on it's own, please email us for a quote. For more information: Please email admin@rtwmatters.org or call 03 9867 4116
See an extract from the particpants guide book here
You'll get a lot out of this Program if you've ever wondered:
1) How can I engage supervisors?
2) Do problem supervisors slow down the return to work process?
3) Do supervisors at my work communicate effectively with employees?
4) Are all parties in my team clear on their roles?
5) Are supervisors contributing to successful return to work – or inhibiting it?
6) Do supervisors know enough about the common causes of absence in workplaces?
7) Are supervisors aware of how important return to work is for the individual, the workplace and the community?
8) Are supervisors clear on their role in return to work?
9) Do supervisors know the financial implications and productivity concerns for the business if return to work isn't successful?
The package includes five different files:
I. Facilitator's Guide
II. Participants' Workbook
III. Powerpoint Presentation for Facilitator's Use
IV. Participant Evaluation Form
V. Participant Resource Handout

Product info: Format: PDF
Delivery: Email or CD
Purchase: Annual licence
Price: Free for unlimited corporate members or on application - If you would like to purchase the product on it's own, please email us for a quote. For more information: Please email admin@rtwmatters.org or call 03 9867 4116
About us:
Return to Work Matters is an online resource for Return to Work practitioners. Return to Work Matters delivers tools and practical resources that are derived from evidence based research. Resources include:
Practical evidence based articles on a variety of topics

Research summaries to keep you up to date

Live webinar events, recordings and video interviews with industry experts

A collection of downloadable and editable tools to streamline your work

Regular blog posts

Handbooks, guides and top tips

Events, conferences and training directory Australia-wide to plan your professional development

A weekly newsletter with new and existing resources to keep great RTW front of mind.
Return to Work Matters is directed by individuals who have for decades been in leadership roles in Occupational Medicine, return to work facilitation, policy development and professional network support.
Individual memberships start at $148.50 per person annually. Individual and small group memberships do not include use of this training package, which can be purchased separately upon request.