Join us for a webinar on Tuesday 9th May 2023 at 3pm AEST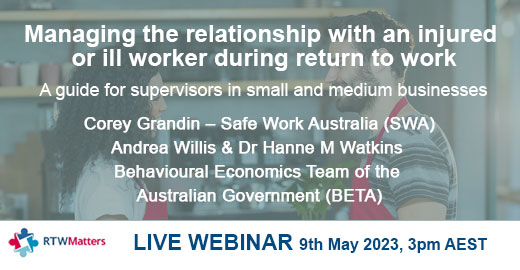 Last year Safe Work Australia (SWA) partnered with the Behavioural Economics Team of the Australian Government (BETA) to produce a guide for supervisors in small and medium businesses to manage the relationship with an injured or ill worker during the return to work process.
The guide is designed to assist supervisors support and stay in touch with workers who suffer a workplace injury or illness, and make changes to the workplace and/or work duties to assist workers return to work sooner.
The guide is based on a 2020 BETA project which produced similar resources targeting return to work arrangements in the Australian Public Service, the guide acknowledges that small and medium businesses face unique challenges and opportunities in supporting workers to return to work following illness or injury.
This webinar will outline how the project supports the SWA National Return to Work Strategy, the project's goals and design process, lessons learnt about small to medium enterprises and provide and overview of the materials.
Corey Grandin – Safe Work Australia (SWA)
Corey Grandin is the Director of Workers' Compensation Policy, Corey leads SWA's important work to develop national policy relating to workers' compensation, develop proposals to improve workers' compensation arrangements, and to promote national consistency in such arrangements. Corey has over 15 years' experience in complex regulatory roles across government including with the Attorney General's Department and the Commonwealth Department of Treasury.
Andrea Willis - Behavioural Economics Team of the Australian Government (BETA)
Andrea Willis is a Senior Advisor with the Behavioural Economics Team of the Australian Government (BETA). Andrea has worked across the public and private sectors, and is an experienced senior leader with deep behavioural science experience. In her current role, Andrea has overseen the design, development and implementation of multiple trials, experiments and research projects across a range of diverse policy areas including health, finance, cyber security and education.
Dr Hanne M Watkins - Behavioural Economics Team of the Australian Government (BETA)
Dr Hanne M Watkins is an Advisor with BETA. She completed her PhD in Social Psychology at the University of Melbourne in 2016, and has extensive experience applying behavioural science to priority policy problems – including cyber security, bankruptcy, and return to work.
Join the webinar
Free for subscribers and guests of www.rtwmatters.org
Register here to attend the live event
Can't attend? Register here to receive the webinar recording.
Professional Development: You will receive a certificate of attendance for the webinar. Please check with your certifying organisation if you are eligible for CPD points for the webinar.
We welcome guests to join us.
RTWMatters Ltd is a non-profit charity committed to improving practices and outcomes for workers and employers in work injury management. If you are able, please consider supporting RTWMatters by subscribing or donating.
Our mission is to empower return to work professionals with the knowledge, skills and confidence they need to manage workplace injuries in a way that promotes injured workers' recovery and benefits the bottom line.
Our team is dedicated to promoting excellence and driving progress in return to work practices. We advocate for the implementation of evidence-informed practice in work injury schemes.
Your support can make a real difference. By subscribing or making a donation to this leading resource for return to work professionals, you'll be investing in, and promoting, positive change in the industry. Thank you for your support!

Full access to RTWMatters resources for you and your team to stay up to date and energised – newsletters, webinars, research updates and a comprehensive online library - from $145 per person in a group subscription or $217 for an individual