Join us for a webinar on 14th February 2023 at 3pm AEDT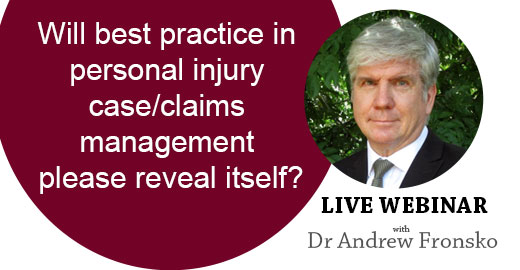 Personal Injury Compensation schemes for workplace and road injuries/trauma have been around for more than 75 years. Yet the question of "what is best/better practice in case/claims management" continues to be asked, including defining the role of personal injury compensation schemes as part of Australia's social protection ecosystem.
This webinar will explore the evolution outcomes sought in personal injury compensation schemes, and current and future focus areas. The implications for case/claims management will be discussed, in the context of the rapidly changing environment impacting the future of work, and the types of injuries and diseases. A summary of recent research aimed at verifying the efficacy of interventions to improve return to work outcomes (and participation generally) for both physical and mental injury will also be discussed.
Although no 'one size fits all - silver bullet' solution is to be presented, the webinar aims to stimulate reflective thought and discussion to provide insight on interdisciplinary care approaches to support people with injury and disability to get their lives back on track.
Dr Andrew Fronsko
Andrew Fronsko is the Principal of the Australian Disability and Injury Insurance Services Group (ADIIS Group), a consulting firm he established in 2014, that provides advice and independent reviews to various regulators and organizations in the field of personal injury compensation.
He has more than 25 years of experience in senior management and regulatory supervision roles across several Australian motor accident and workers' compensation schemes. Andrew is also a part-time consultant to the World Bank and a regular presenter at conferences and seminars. He holds a Doctorate in the field of insurance, MBA, Degree in Applied Science, and a Graduate Diploma in Applied Finance. He is a prior graduate member of the Australian Institute of Company Directors, and a lifetime honorary affiliate of the Personal Injury Education Foundation (PIEF). Andrew is currently lecturing with Monash University in association with PIEF.
Join the webinar
Free for subscribers and guests of www.rtwmatters.org
Register here to attend the live event
Can't attend? Register here to receive the webinar recording.
Subscriptions
Subscription: Full access to RTW Matters resources for you and your team to stay up to date and energised – newsletters, webinars, research updates and a comprehensive online library - from $145 per person in a group subscription Find out more >>
Summary updates: Join our mailing list to receive brief updates and invitations to more webinars here>>
Professional Development: You will receive a certificate of attendance for the webinar. Please check with your certifying organisation if you are eligible for CPD points for the webinar.