Handbook Extract: Policies and Procedures
A well written work disability policy provides a framework for action.
The information in this article is from the Return to Work Matters Workplace Systems Handbook, under the Policies and Procedures chapter. The complete handbook is available in PDF and online format for all Return to Work Matters subscribers.
The benefits of policy...
An injury management policy is a statement of purpose that provides broad guidelines on a company's approach to the area. A written statement of the organisation's approach, backed up by clear policies and procedures, lay an important foundation for the whole team.
A well written work disability policy:
Outlines and demonstrates the organisation's commitment to RTW;

Provides a framework for action;

Allows the organisation's approach and commitment

to be visible and consistent across staff, departments and worksites eve

n if there is staff changeover;

Can be recognised and used in courts of law;

Provides back-up for staff with responsibility in the area of injury management; and

Clarifies functions and responsibilities and allows the organisation to assess performance against stated commitments and obj

ectives.
Writing an injury management policy
In very broad terms, an organisation's work disability policy should have both:
A statement of commitment on behalf of the organisation regarding workplace disability, signed by the most senior person of the organisation; and

A more detailed outline of the organisation's injury management policies and procedures, including:

A description of the roles and responsibilities for all people concerned;

Instruction as to how workplace rehabilitation will be undertaken; and

Documented procedures that expand on the expected courses of action.
Six major elements of an effective injury management policy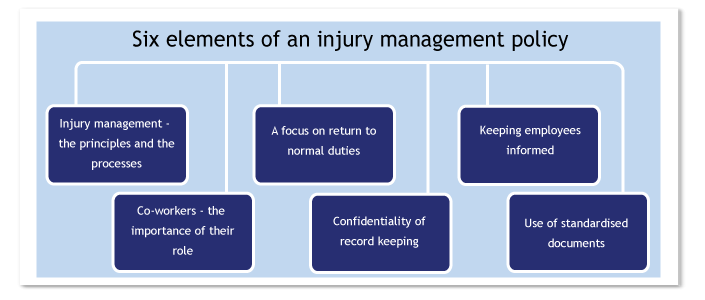 Injury management



A description of injury management and the processes involved with it.

For example:

- A brief description of early intervention and timeframes for reporting;
- Guidelines for early contact and communication with the employee;
- Broad principles around the timing of return to work; and
- An outline of response style or team approach.



A description of appropriate return to work duties.

Appropriate return to work duties will vary according to the workplace and the individual case. However return to work duties should always be allocated in line with the following priorities (in descending order of preference):



a.

The normal job;


b.

A modified version of the normal job;


c.

Alternate duties within the same department;
d. A different job in a different department within the normal workplace;
e. If an employee is unable to return to the normal workplace, the provision of support to assist them to retrain or find a job within another organisation.



A description of the principles of return to work and injury management

, which are as follows:

-

The key parties involved with return to work management are the employee and their supervisor.


-

Other staff who can assist the supervisor in dealing with return to work issues include the return to work coordinator, human resources staff or external professional service providers.


-

Return to work is significantly more successful when there is cooperation and mutual goodwill.


-

Return to work is documented using a return to work plan. The plan receives the agreement of the employee, line manager and the employee's treating practitioner.


-

Any restrictions to return to work are sought from the treating doctor. The employee has input into the restrictions and return to work duties.




Coworkers





The policy should acknowledge that return to work is more successful when the employee receives support and cooperation from co-workers.

With the employee's permission, co-workers should be informed of the employee's needs. They should also be advised about how they can assist the employee in return to work endeavours.


A focus on return to normal duties


Whilst many medical conditions take time to completely settle, most people are able to return to good levels of function within relatively short periods of time.

The workplace's commitment to providing flexibility and support with return to work duties should be stated in the policy.

Employees who are able to return to normal or near-normal duties have less anxiety, experience less lifestyle disruption, and are able to transition back to their normal lifestyle more rapidly.

When employees perceive their supervisor as accommodating and responsive to their needs they are more likely to return to their normal duties early.


Confidentiality

Return to work restrictions and return to work duties are not confidential matters but need to be dealt with respectfully. The policy should address employee confidentiality issues by ensuring that:

- Hard copy files are kept under lock and key, and stored in an area that ensures confidentiality and privacy of the records; and
- Electronic files are also suitably secure.


Keeping employees informed


An employee is more likely to be an active participant in their return to work when well informed about the processes. The policy should contain a statement of intent to inform an employee early on in their claim about relevant matters. Relevant matters include:

- Rates of pay and how they change over time;
- The importance of employee involvement in RTW;
- How the employee may best influence the situation positively, including discussions with supervisors, management, external claims officers, and treating practitioners; and
- How the employee can positively influence workplace relations and maximise their chance of receiving support.


Using standardised documents

A well written work disability policy outlines and demonstrates commitment to RTW, and also provides a framework for action.

For more information on implementing effective policies and procedures and anticipating special situations, join Return to Work Matters today to access the complete handbook.
Already a subscriber? Click on 'Handbook' along the top navigation menu of the site, once logged in.